Whether you're trying to win back an ex girlfriend or looking to move on and find love with someone new, one simple fact remains the same:  women are genetically hard-wired, thanks to tens of thousands of years of evolution, to seek certain traits in a man.
It's obviously in your best interests to be aware of these characteristics so that you can work on displaying them to the woman in your life, be it an ex or a future girlfriend or spouse.
Now, before I get started, let me clarify one thing:  not all women are alike, as I'm sure you've already guessed, so there may be some women who don't agree with certain traits in the list below — but, based on a fairly extensive amount of scientific research (and lots of personal experience working with couples) — most women will look for the majority of these characteristics and hope that any long-term romantic partners display some or all of them.
Obviously it's not realistic for you to magically become Mr Perfect overnight just by knowing what women look for in a man… but it's also relatively easy to make small tweaks to your personality or your habits that will better demonstrate some of these characteristics and therefore make you more attractive to the opposite sex.
So, what exactly are these traits that women look for in a guy?
---
LEADERSHIP
Women are naturally attracted to men with power.  There's a reason why women want to sleep with the star quarterback of a football team – not the backup punter or the water boy.  There's a reason why women want to sleep with the lead singer of the band and not the bass player (no offense, bass players!).  The ability to lead and be seen as a powerful leader in society is a very strong sex symbol.
UNAFFECTED BY OTHERS
Attractive women are used to seeing guys get emotionally flustered when they're around them. But when they see a guy who is completely indifferent to them, they get emotionally flustered. As a result, most women are attracted to men who do not let others affect their reality, especially on an emotional level.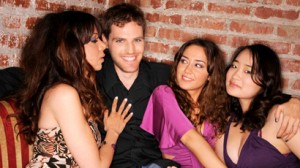 UNCONCERNED WITH THE OPINIONS OF OTHERS
Powerful, confident and important men don't really care what anyone else thinks about them.  As a result, women find this quality irresistible. This ties in to the next traits as it reflects a high level of self-confidence.
CONFIDENT
Bet you knew this was going to be one of the traits on the list — not surprisingly, women find confidence to be extremely attractive, especially because it goes hand-in-hand with many of the other items on the list.
FUN, PLAYFUL, & GOOD-NATURED
Again, no surprise here… women love a man who can make them laugh and just generally enjoy life in a good-natured, playful way.  If you can make a girl laugh, you're well on your way.
INTELLIGENT
It may not always be possible to magically boost your IQ score overnight, but intelligence is a quality that both sexes typically desire in the opposite sex.  Even if you're not a brain surgeon, you can still be well-read and informed, which ties in to the next item…
CULTURED & SOPHISTICATED
Almost all women prefer men who are well-spoken, well-traveled, and just generally 'cultured'.  While that may not be the easiest trait to develop overnight, it can and should be something you develop over time.  (And yes, that means you should know how to use chopsticks when dining at a Chinese restaurant…)
RICH (BUT NOT FINANCIALLY!)
Women love it when a man doesn't need to ask for anything… money, favors, etc.  Powerful and self-confident men are typically the ones being approached for loans or favors or advice… and not the ones asking. (Yes, of course financial stability can't hurt!)
AMBITIOUS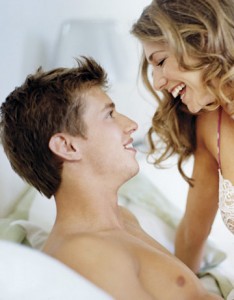 This should be a no-brainer, but there's a surprising number of men who lack ambitions.  Even if you haven't achieved your goals yet (we'll get to that one momentarily), women love a man who wants to wring the most he can out of life… so whether your ambitions are career-oriented, social, financial, etc… it doesn't really matter as long as you have ambitions.
GOAL-ORIENTED
Again, as I mentioned earlier, women always run towards the quarterback and not the backup warming the bench.  But even if you haven't achieved your goals yet, it's important to have clear and defined goals for yourself, as this shows ambition and self-confidence… both qualities that will make women chase after you.  If you can achieve your goals and end up as the starting quarterback, that can't hurt either!
HUMBLE
Don't confuse confidence with arrogance or cockiness.  Ego is a turn-off, so it's important to retain a sense of humility.  Girls can't help but find the combination of confidence and humility extremely attractive in a man.
OPTIMISTIC & POSITIVE
Nobody likes to be around people who are constantly negative and cynical… and this is especially true for the ladies, who tend to put a strong emphasis on a man's sense of humor and ability to retain a positive outlook on life, even in the face of adversity.  If you want to attract women, it's always best to be positive and upbeat.
SOCIAL
Having an active social life is often associated with other positive character traits… after all, you're not going to have many friends if you're a loser.  Women naturally gravitate towards men who are social and have lots of friends.
WANTED BY OTHER WOMEN
Granted, this is often out of your control, but let's face it:  if you're being chased by a number of other ladies, you've obviously got something going for you, right?  This is called "pre-selection" and it's ingrained in every woman's instincts.
UNDERSTANDING
Women do tend to more sensitive and emotional than men, so most girls appreciate a man who can understand them and help them through any difficulties they're facing.  That doesn't mean being a sap and crying along with your girlfriend, but it does mean being able to understand & comfort her.
---
So, there you have it… 15 things you can now keep in the back of your mind when interacting with the fairer sex. Is this an exhaustive list? Of course not, as all women are different, but all of the above characteristics are universally seen as desirable.
Don't worry about demonstrating all of these traits all the time — that's totally implausible, and women don't expect it.  But it does give you some potential areas for improvement if you see some items above that may not be your strengths at the moment.
You never know — knowing what women are looking for may help you win back an ex girlfriend or seduce the girl you've always dreamed of.  Good luck!
More Resources:
Learn how to Pick Up Girls by self-analyzing and then totally destroying your fear of rejection.
Learn how to Seduce a Woman and get her sexually addicted to you in 5 easy steps.