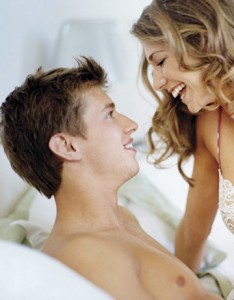 If I had a dime for every time I heard someone say that their ex "just wanted to be friends," I'd make Bill Gates look like a hobo.  It's so common that the term, "friend zone," which you may have heard on TV or read about on the internet, is a commonly-accepted term.
So, what does your ex girlfriend mean when she tells you that she "wants to be friends"? And what should you do about it? This article will tell you all about the dreaded 'friend zone,' why it's bad news for your chances of getting back together with your ex, and how to avoid it.
What Your Ex Really Means About "Being Friends"
Hey, it sounds like a pretty reasonable suggestion when your ex says, "let's be friends," doesn't it? After all, you've spent months or years of your life with this person, so you obviously like them and vice versa. So wouldn't you want to maintain a friendship even though you've broken up?
Well, yes, it's nice in theory. In practice, being "friends" with your ex isn't a good thing at all, because it has a few repercussions:
Being "friends" with your ex will never allow you to fully get over them:  if you're unable to get back together with your ex girlfriend, or if you decide it's not a good idea after all, then you need to remove your ex from your life for a certain period of time (months or years, probably). This will allow you to fully heal and move on to someone new. If you maintain a friendship and see this person every day, moving on is so much more challenging, and you may even turn down opportunities to meet someone new while still holding on to the idea that you may be able to get back together with your ex girlfriend in a romantic way.
Your ex won't miss you if she sees you all the time:  As I've mentioned before, your ex needs time to let go of any negative feelings she has of you and develop feelings of nostalgia.  By not talking to your ex girlfriend after the breakup, she'll begin to miss you and want you back in her life.  How can she develop these feelings if you're still friends that hang out all the time?
Your ex girlfriend will be in the driver's seat: If you say yes when your ex suggests "just being friends," then you're essentially telling her that you still need and want her in your life. While that may be true, you want your ex to think that you're completely fine with the idea of moving on. This will make your ex girlfriend think she's made a mistake by letting you go, especially if you have other romantic options lined up. She wants the best of both worlds, and you can't let her have it!
So, there's three very good reasons you should want to avoid the "friend zone" if your ex suggests it…
What To Do If Your Ex Suggests Being Friends
We've already established that the "friend zone" is not a good place to be if you want to get back together with your ex girlfriend. But what should you do or say if she suggests that the two of your should "still be friends" after the breakup?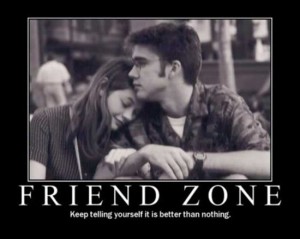 Actually, the answer to that question is a lot more simple than you might think:you should say no!
Don't give your ex a flat out "no" when she asks about being friends even though you're not together anymore. Instead, try saying something a bit more gentle, such as: "I don't think that's a good idea. I was happy being in a romantic relationship with you, but if that isn't working out, then it's probably a better idea to spend some time apart. I wish you all the best."
Telling your ex that the 'friend zone' idea is not an option gives her an ultimatum: either choose to stay together with me as your boyfriend, or lose me altogether.  If your ex girlfriend was using the "let's just be friends" thing so that she could 'test out' what it's like to be apart from you, giving her a flat out rejection of the idea will make her re-think whether she wants to go on without you in her life.
What If You Already Said Yes?
Don't panic: if you already told your ex that you wanted to be friends after the breakup, you can still repair the damage and you still have a very good chance of winning her back.  But you can't waste any more time screwing around and potentially pushing her further away.
If you're in this situation and you already agreed to "be friends" with your ex, I recommend investing in a step-by-step guide to getting your ex back.  I've reviewed all the top programs from relationship and breakup experts, and the top-rated programs (such as The Magic of Making Up by TW Jackson) will give you all the information you need to start repairing the damage that you've done to date.
As I said earlier, you don't want to get stuck in "the friend zone," so it's absolutely crucial that you get the right advice and start implementing it as soon as possible. Investing in a reputable guidebook that shows you how to handle any scenario you might face? Well, that would be a good place to start.
Best of luck!