If you want to get your ex girlfriend back, should you be dating other women?
I bet your female friends would probably say, "HELL NO! That'll make her jealous and make her less likely to get back with you, you idiot!"
Here's my tip of the day… don't listen to them!
Dating other girls is pretty much my secret sauce to getting your ex girlfriend back and here's why.
Reason #1 – Dating Other Girls Is Fun.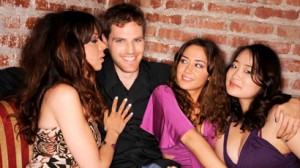 Instead of staying at home, curled up in a little ball and crying your heart away because you're sad your ex girlfriend left you, you can start dating other women and enjoying your life. Getting back into the dating game is fun and it's a great way to just meet new people.
Just think… now's the time to go out and really enjoy the single life. You couldn't do this before when you were with your girlfriend, so go out there, strap on a condom, and go to town!
Reason #2 – It Will Build Your Confidence.
You've probably heard a million times that women are attracted to men that are highly confidence, and your ex girlfriend is no different. Right now, your ex girlfriend probably doesn't think much of you since you've probably been acting like a wuss ever since the breakup, so in order to capture her heart again, you are going to have to fix your ego.
She's not going to come back to you if you're still a broken man, and dating other women will help you realize that you still have it in you!
Reason #3 – It Will Make Your Ex Girlfriend Jealous.
Women are attracted to men that other women find attractive. It's a ridiculous snowball effect that's taking place here… once you're deemed "desirable" by a bunch of women, you'll seem even more desirable to other women. That's just how nature works.
Again, your ex girlfriend isn't exempt from this rule. The more women you date (and when she hears about you dating all these gorgeous babes), the more she'll likely be attracted to the thought of you.
Reason #4 – You Might Find Someone Better.
Yeah, you probably THINK that your ex girlfriend is "the one" right now, but if you look hard enough, you might even find someone better. Right now, you want what you can't have – and what you can't have right now is your ex girlfriend. So right now, you're completely engulfed in this idea, but the reality is, your ex girlfriend isn't the only girl out there. There are tons of great, single girls out there waiting for you to meet them.
Not only this, but if you do find a girl that you eventually want to be with, then it's a win-win situation because then once your ex girlfriend finds out, she'll be jealous and probably want you back! You'll have the choice between two girls that you're attracted to.
If you're really caught up with trying to get your ex girlfriend back though, it's fine… but if you want more information, then I highly encourage to pick one of the top guidebooks designed to walk you through the process of getting your ex back. My top pick, The Ex Factor Guide, was written by Brad Browning, who is a certified relationship counselor and breakup expert.