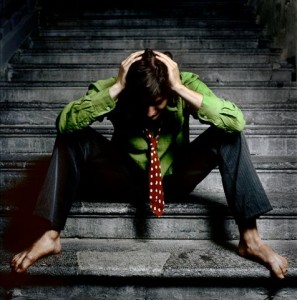 As I've mentioned before numerous times on this website, it's always best to cut off the lines of communication between you and your ex girlfriend if you're trying to get her back. There are many benefits of this — it will make your ex miss you, it will show her you're strong enough to handle life after your ex, and it can also make her jealous.
But, even if you're well aware that you shouldn't be phoning or texting your ex girlfriend, actually preventing yourself from contacting her can be very challenging.
When you really love someone, finding the self-control to not talk to them is extremely difficult!  So, in this article, I'll give you a few pointers…
1. Put Down The Bottle
Not surprisingly, one of the things that can totally ruin your self-control and lower your natural inhibitions is alcohol.  If you really want to win back your ex girlfriend, and you're the type to 'drunk dial' after you've been into the adult beverages, then you really need to think about laying off the booze during your "no contact" period.
This might seem like an unreasonable suggestion if you're the type to use alcohol to numb the post-breakup pain, but a single drunken text message can really push your ex away and upset her… or worse, depending on what you've said. So, for your own sake, don't overdo it on the liquor if you're prone to drunk dialing your ex.
2. Delete Her From Your Contact List
Seems way to easy, right?  Well, for starters, many men have their ex girlfriend's phone number memorized… which makes this a useless tip.  But if you don't have your ex's phone number memorized, deleting her from your cell phone contacts list is pretty much the easiest way to stop yourself from contacting her.
Worried you might not be able to recover your ex's phone number when the 'no contact' period is over and you want to contact her? Write your ex's contact info on a piece of paper and give it to a trusted friend with instructions not to return the paper to you for at least a month.
3. Remove All Reminders
As you probably already know, after a breakup it's wise to remove any visible reminders of your ex.  Take down photos of you together, put stuffed animals and love notes in a box in the basement… do whatever it takes to remove any visible reminders of your ex from your immediate surroundings. 
By eliminating reminders of your ex girlfriend, you'll help push her to the back of your mind, making it less likely you'll feel the urge to contact her.
4. Train Yourself By Setting A Rule
Set a rule such as this:  every time you think about contacting your ex girlfriend, put a dollar bill in a piggy bank and remind yourself that not contacting your ex is the best way to get her back.
Other people prefer more painful or irritating self-reminders… for example, any time you reach for your phone to text your ex, poke yourself in the eye.  Or do pretty much anything that's unpleasant in the hopes that this action will remind you why it's a bad idea to contact your ex girlfriend for now.
My personal favorite?  Each time you grab your phone and think about calling or texting your ex, send yourself a text saying "I must not talk to her!" instead.
5. Get Support From A Breakup Expert
Invest in a 'get your ex back' guide from a breakup and relationship expert. Most programs include some form of email coaching, which you can turn to if you find yourself feeling the urge to contact your ex again.
My personal recommendation is Brad Browning's "Ex Factor Guide" program, which I reviewed here.
Good luck!